Product Description
This powerful, portable Lion Energy 100 watt solar panel can harness the power of the sun to charge the Safari portable power unit in as little as 90 minutes when multiple panels are combined together.
Safe – Produces zero emissions, no carbon footprint during use.
Durable – Anti-corrosive, double walled aluminum construction.
100 Watts – Each panel is a high-efficiency 100W, 24V design.
Expandable – Link up to 6 panels together.
Portable – Easy carrying handles and neoprene carrying case.
Easy to Transport
Durable handle for portability and effortless transportation.
Built-in Connections
Built-in easy to connect 6 foot solar cables and foldable legs so you can tilt it directly into the sun. Equipped with Anderson Powerpole® connectors to easily connect to 24V batteries or other 24V energy storage devices. Use of a solar charge controller is recommended.
Durable
Anti-corrosive, double walled structural construction that last up to 20 years. The photovoltaic cells cased is airtight tempered glass.
Easy Use
Point towards the sun and plug into your portable power station.
Expandable
Can easily link up to 6 panels in parallel together for faster charging. Warning! Only connect solar panels of the SAME voltage and model number. THIS PANEL IS NOT COMPATIBLE WITH 12V SYSTEMS.
Renewable
Creates clean, virtually limitless, renewable energy sources to power your life.
Environmentally Friendly
Produces zero emissions or carbon footprint during use. It's good for you and the planet.
Harness The Sun
Lion Energy 100 watt solar panels are designed to recharge power units, like the Safari, by harnessing the power of the sun to power your devices – anywhere. They come with adjustable legs so you can set them up on the ground and point them to the sun or mount them on top of your roof, shed, RV, or camper van.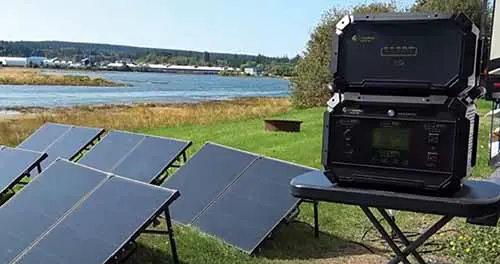 Built to Last, Year After Year
Weighing in at 22 lbs, the Lion Energy 100W 24V solar panel makes for an easy choice to extend your camping trip because you now have the power you need and you can take it with you. These panels are perfect to power the Safari in a wide range of settings – tailgating, construction site, camping, or wherever you are.
Lion Energy 24V 100W Specs
Weight
~22 lbs
Dimensions
(L x W x H)
26.5" x 40" x 1"
(Unfolded)
26.5" x 20" x 1
(folded)
Rated Power
100W / 24V max
@ 2.78A
Panel Type
Monocrystalline
Life Cycles
20 years
Open Circuit
Voltage
43.2V
Warranty
1 year
Lion 24V Portable Solar Panel 100W - 50170163
Warranty Information
1 Year Warranty