Product Description
A powerful addition to our lineup, the Lion Safari and Safari-XP (expansion pack) are here to revolutionize your life with clean, limitless, and renewable energy like never before. These powerful companions have a zero carbon footprint during use, they emit no greenhouse gases, and pose no harm to our environment. Remarkably gentle yet incredibly powerful, the Lion Safari and Safari-XP are even safe for indoor adventures and as quiet as a lioness on the prowl.
Wherever your journey takes you, whether amidst the blazing savannas or bustling city streets, trust these reliable companions to provide ample power on the go. Join the energy revolution today and unlock your power potential with the Lion Safari! Select 1 - 6 24V 100W Lion Energy Solar Panels with this solar generator package. A free 25' solar panel extension cable is also included in this package.
For the Lion Energy Safari Solar Generator w/Expansion Pack included, click the link.
FAST CHARGE TIME:

Achieve a full wall-to-battery charge in just 2.3 hours and 5.3 hours with the Safari-XP!
EXTENDED USE:

With 3,500+ cycles, it's built to last for daily, extended use.
MULTIPLE OUTPUTS:

Connect multiple devices via AC, USB, or 12V connections - the options are plentiful!
EASY TO TRANSPORT:

Carrying handles make transportation a breeze, at 57lbs and only 50lbs for the Safari-XP they're easy to take with you anywhere.
POWER TO SPARE:

Unleash the beast with an initial 6,000W surge for those moments when you need that extra boost.
Keep Your Adventures Going With All the Power You Need
Plug in anything from power tools, mini-fridge, CPAP, TVs, power tools, blenders, laptops, drones, lamps, to cameras and phones. Keep projects going with all the power you need. The Lion Safari has the the perfect inverter size (3,000 W) with an impressive 1,612Wh lithium iron phoshate battery (expandable to 4,300 with the XP), allowing you to use your devices for the longest period of time.
Portable
Renewable
Longer Power
Powerful
Fast Charging
Durable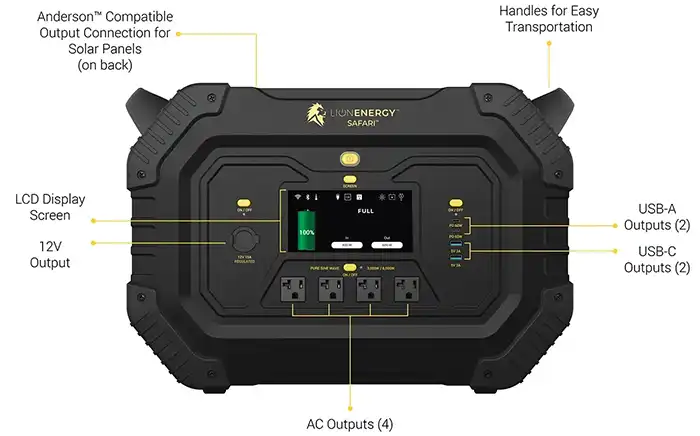 More Power. More Versatility.
The Lion Energy Safari comes with a 3,000 watt inverter and over 1,600 watt hours of power, giving you all the portable power you need.

Bluetooth Compatible
Connect to the your Bluetooth enabled product from a distance through your mobile device.
Monitor current energy capacity.
See incoming and outgoing energy usage in real time.
Search for Lion Energy Smart in your app store, or click on the app store links below to download now!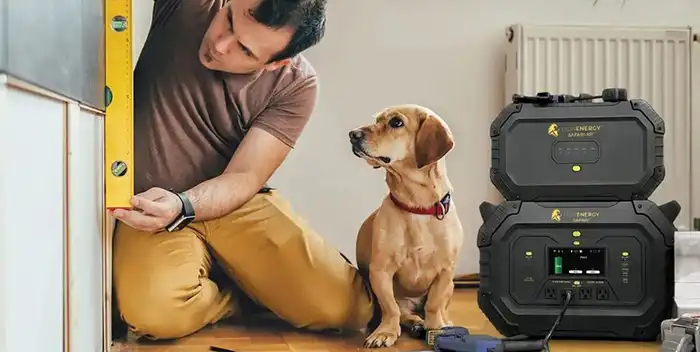 Save By Bundling
Create a great portable solar generator package. You can build your own starting with Lion Energy's largest portable generator—the Safari. Combine the Safari with an Expansion Pack (XP) & 1 to 6 - 24V 100W solar panels so you can save money and be ready for anything. All Safari solar generator packages come with a free 25' solar panel extension cable.
Lion Energy Safari Specs

| | |
| --- | --- |
| Weight | 57.3 lbs |
| Dimensions | 20"x13.3"x13.3" (LxWxH) |
| Output Ports (AC) | 4 |
| Output Ports (USB) | 2X USB-A 5V @3A each |
| | 2X USB-C 20V @3A (60W max) |
| DC Output | 1 (15A) |
| Warranty | 5 years |
| | |
| Solar Charging | |
| Maximum Watts | 600W |
| Solar Panel Volts | 24 - 60 VDC, solar panel must be >36 VMP <60 VOC |
| Maximum Current | 25A |
| Solar Charger Type | MPPT |
| | |
| AC Charging | |
| Maximum Watts | 800W |
| Charge Voltage | 102 - 130 VAC |
| Charge Frequency | 45-65 Hz |
| | |
| Battery | |
| Battery Chemistry | Lithium Iron Phosphate |
| Maximum Capacity | 1,612Wh |
| Output Watts | 3,000W Cont. 6,000W Surge |
| Life Cycles | 3,500+ |
| Charge Retention | 1+ Year |
Warranty Information
5 Year Solar Generator Warranty, 1 Year on Solar Panels & Accessories
Product Videos