Product Description
Keep your car and marine batteries of all types, charged, safe from overcharging, and at maximum capacity with the VMAX BC61210ARC. This high-precision battery charger is able to work flawlessly across a variety of battery types including WET, Lead Acid, AGM, GEL & LiFePO4 batteries - utilizing a multi-stage charging process for extended use and peak performance. IP65 Water Resistant construction also provides increased protection against water and dust infiltration.
This is a fully automatic battery charger with 6 charge stages in Lead-Acid modes and 4 stages in LiFePO4 mode. Automatic charging protects your battery from being overcharged. So you can leave the charger connected to the battery indefinitely. Multi-stage charging is a very comprehensive and accurate charging process that gives your battery longer life and better performance compared to using traditional chargers.

The 6 Lead-Acid charging stages are:
Qualification; Soft Start; Bulk; Adaptive; Absorption; Maintenance.

The 4 LiFePO4 charging stages are:
Soft Start; Bulk; Absorption; Full Charge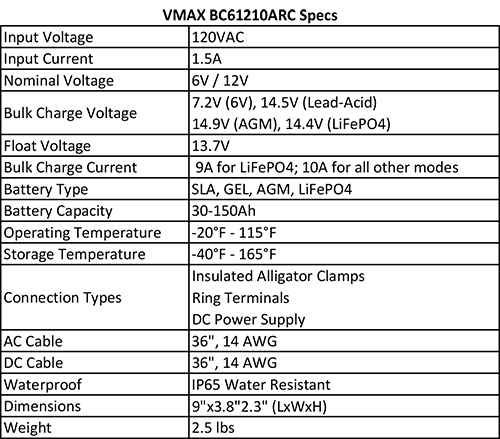 VMAX 12V Battery Charger AGM/Lithium (10A) -

BC61210ARC
Warranty Information
1 Year Warranty
Product Videos