Product Description
The NOCO GX3626 36 volt EZGO golf cart charger with Powerwise D-Plug is a high-frequency, high-efficiency industrial onboard battery charger. It represents the latest technology for fast and efficient battery charging with multiple charging modes at a push of a button. It's universally adaptable design allowed for global use with replaceable A/C and D/C cables and designed for all types of deep-cycle lead-acid, lithium-ion and LiFePO4 batteries. Suitable as a portable or onboard battery charger.
Pre-wired exclusively for 36V EZGO golf cart with D-Plug style connector.
A 92-percent high-efficiency 36 volt industrial battery charger.
Wide-range input voltages from 100-240VAC, 50-60Hz.
Charges lead-acid and lithium batteries up to 425 amp-hours.
Integrated inhibit and remote LED functions.
Converts to a power supply for zero voltage charging.
Progressive repair method for sulfated batteries.
Spark-proof technology and reverse polarity protection.
Advanced diagnostics indication for damaged batteries.
Designed for rugged environments and rated at IP66.
4 external mounting holes for installation as an onboard charger

The Most Advanced Industrial Battery Charger in its Class
Not only can the GX3626 it charge a wide-range of deep-cycle lead-acid and lithium-ion batteries, but it's as simple as a push of a button - no dip switches or downloadable software. And it's paired with a robust battery repair method to combat battery sulfation and recover lost battery capacity, plus easily converts to a constant current, constant voltage power supply for zero voltage charging or equalizing unbalanced batteries.

Universally Adaptable
Universal input with swappable options for the AC and DC cables. A versatile industrial battery charger designed for worldwide use. Its internal magnetics and power design handle a wide-range of input voltages from 100-240VAC and frequencies from 50-60Hz. With GX3626's removable AC and DC cords, it's simple to change cables for each country or application - all in a water-resistant strain relief clamping system.

New Industry Standard - Expertly designed. Precisely engineered. Manufactured tough.
An industrial 36 volt battery charger that's designed to last even the most rugged and harsh operating environments. Whether used as an on-board or off-board battery charger, its robust aluminum unibody design withstands shock and vibration for endless hours of operation. Its over-molded strain reliefs prevent unwanted stress on the cables while providing a water-resistant seal.
Advanced Diagnostics - Battery Charging with Intelligence
Welcome to Advanced Diagnostics, which analyzes battery feedback and display a particular error pattern if a problem is detected. Each flash pattern tells you what's wrong, and how to quickly fix it.
Single Flash: Battery will not hold a charge and should be checked by a professional.
Double Flash: Possible battery short, and should be verified by a professional.
Triple Flash: Battery voltage is too high for the selected charge mode. Double check the battery matches the charge mode.
Error LED Solid Red: Reverse polarity. Reverse the connections to the battery.
Standby LED Solid Orange: Battery voltage is too low for the battery charger to detect the battery.
Efficient Design
Compact, yet powerful industrial battery charger. A mix of electrical engineering and industrial design create a powerful battery charger into a tiny footprint. It uses high-frequency switch-mode technology to efficiency convert A/C power into safe D/C power for battery charging. And it's onboard microcomputer precisely controls the charging to minimize power loss to create an incredibly compact form factor.
NOCO GX3626 36V Industrial Battery Charger
Integrated D/C Cable with Powerwise D-Plug for 36V EZGO Golft Carts
Integrated A/C Cable with Type B Plug
User Guide & Warranty Information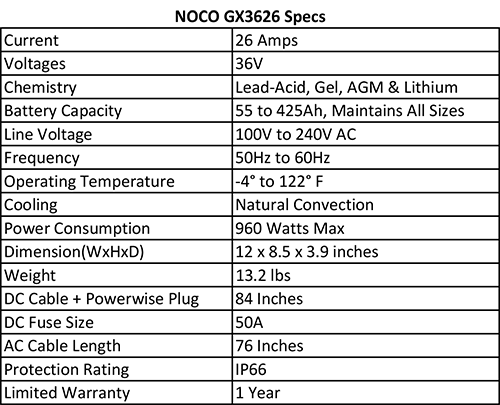 NOCO GX3626 EZGO 36 Volt Charger with Powerwise D-Plug | EZGO Charger 36V
Warranty Information
1 Year Limited Warranty
Product Videos