Product Description
30% federal tax credit under the Residential Clean Energy Credit when you purchase a SuperBase V for home energy battery storage! Clink the link to see if you qualify!
12,876Wh Capacity (12.8kWh)
The SuperBase V6400 has a storage capacity of 6.4kWh (6,438Wh) and is doubled to 12.8kWh (12,876Wh) with the B6400 satellite battery included with this package. The maximum configuration for V6400 includes two base units and eight satellite batteries for a total capacity of 64kWh.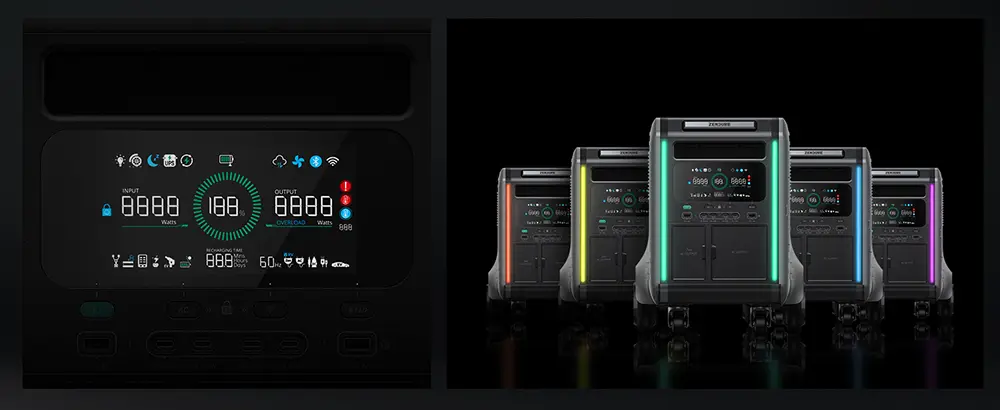 Powerful 3800 Watts of AC Output
A single SuperBase V can provide up to 3,800W of power, and two units can be connected together to provide up to 7,600W. That's enough power to supply a typical household with a washer, dryer, heater, refrigerator and more.
Fastest Charging Options Anywhere
Combining AC and solar power, SuperBase V can charge up to 5,150W on its own, or 6,600W when connected to a Satellite Battery. Whether you're planning for an emergency or using it to manage your household energy consumption, faster is always better. SuperBase V can charge up to 3,000 W using solar power alone. This is enough to fully charge the main unit in 2 to 3 hours. You can charge from a 120V or 240V outlet AC. At 240V, SuperBase V can draw 3,600W at its AC input and recharge in about 4 hours with the statellite battery.
More Power for Your Power Station
The Zendure 400W solar panel provides a whopping 400W of power, giving your power station the juice it needs to keep your devices charged up and ready to go. Perfect for the high capacity of the Zendure SuperBase V Power Stations.
16 Output Ports for Unmatched Versatility

120V/240V Dual Voltage
If your home or worksite includes 240V appliances or power tools, you need an energy storage system capable of high-voltage output. And while other products on the market can provide 120V or 240V, SuperBase V is the first and only system that can supply both at the same time, from a single base unit, thanks to our patented GridFlow 2.0 Real-Time Bidirectional Inverting Technology. This also makes 240V on the road a reality, making it an ideal worksite companion.
3000W Solar Input
SuperBase V can charge up to 3,000W using solar power alone. This is enough to fully charge the main unit in 2 to 3 hours. While we offer our own solar panels, SuperBase V is compatible with a wide range of other manufacturers' solar panels from 12V to 150V and can be easily integrated into your existing solar system.
Plug-and-Play Home Energy Storage + Portability
Home batteries can be quite heavy. SuperBase V's rear wheels are motorized to help lighten the load. Simply pull the handle and enjoy true portability, even on inclined surfaces.
Zero-Downtime Online UPS
Sensitive electrical equipment can fail or sustain damage from even a brief interruption in power. When choosing an uninterruptible power supply, every millisecond counts. SuperBase V's backup power switches on in 0ms*, again thanks to our GridFlow 2.0 Real-Time Bidirectional Inverting Technology. It doesn't get more "uninterruptible" than that.
5 Ways To Recharge And Always Be Ready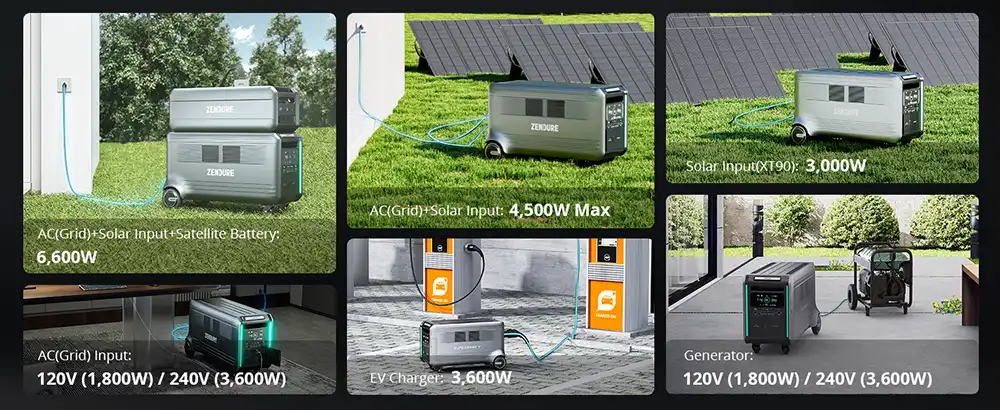 EV-Grade Semi-Solid State Batteries
SuperBase V is the world's first home energy storage system with semi-solid state batteries. At more than 228Wh/kg, our semi-solid state batteries have up to 42% more energy per pound compared to lithium iron phosphate (LiFePO4) batteries. And with our battery management software, internal battery life can be an amazing 10 years or more.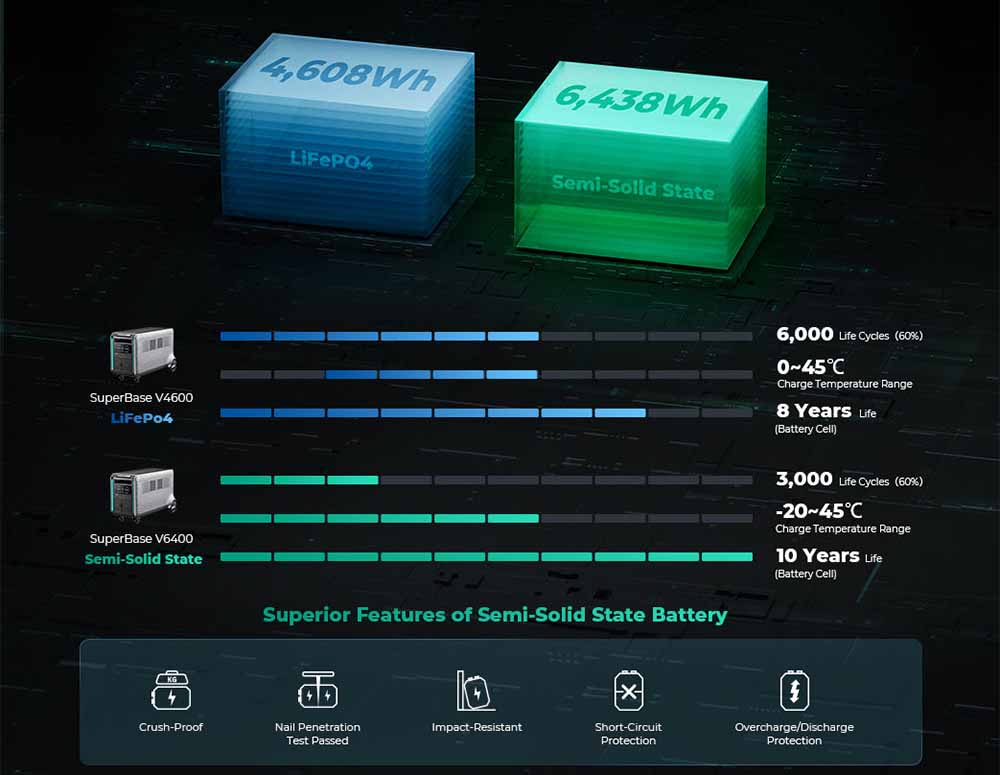 SuperBase V is the first plug-and-play home energy storage system designed for the whole house. A customizable energy ecosystem with user-centric design and revolutionary technology, SuperBase V sets a new standard for home energy storage.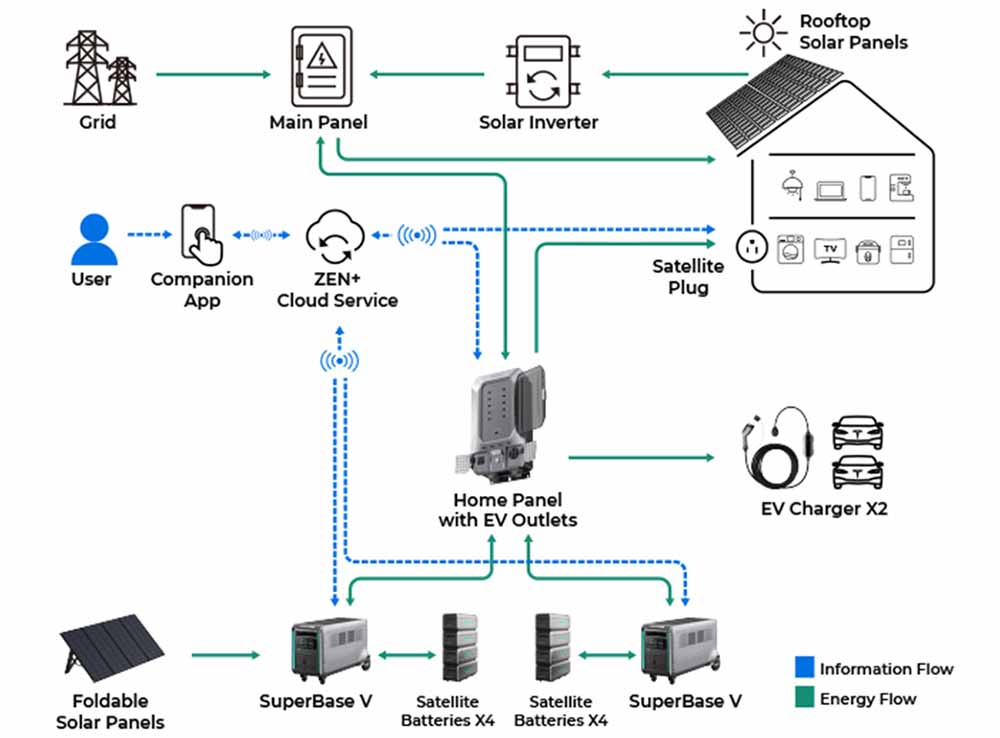 Intelligent Energy Management
Our Home Panel with EV Outlets connects SuperBase V to your home's electrical circuits to supply power throughout the house. The Zendure app gives you tools to monitor, manage, and customize your energy use. Using Zendure's Time of Use tools, you can significantly reduce your energy bill. Zendure App Downloads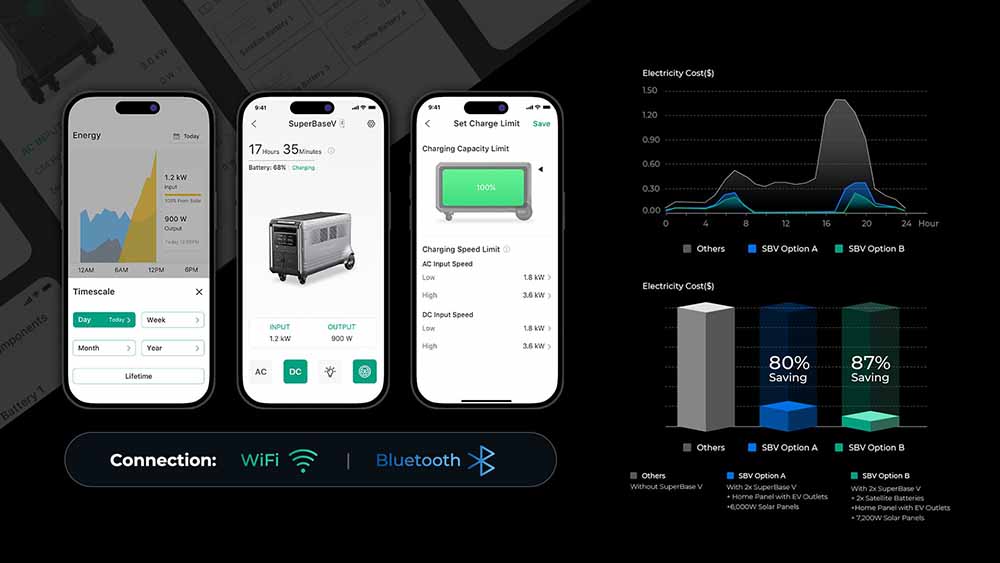 Level 2 Fast Charging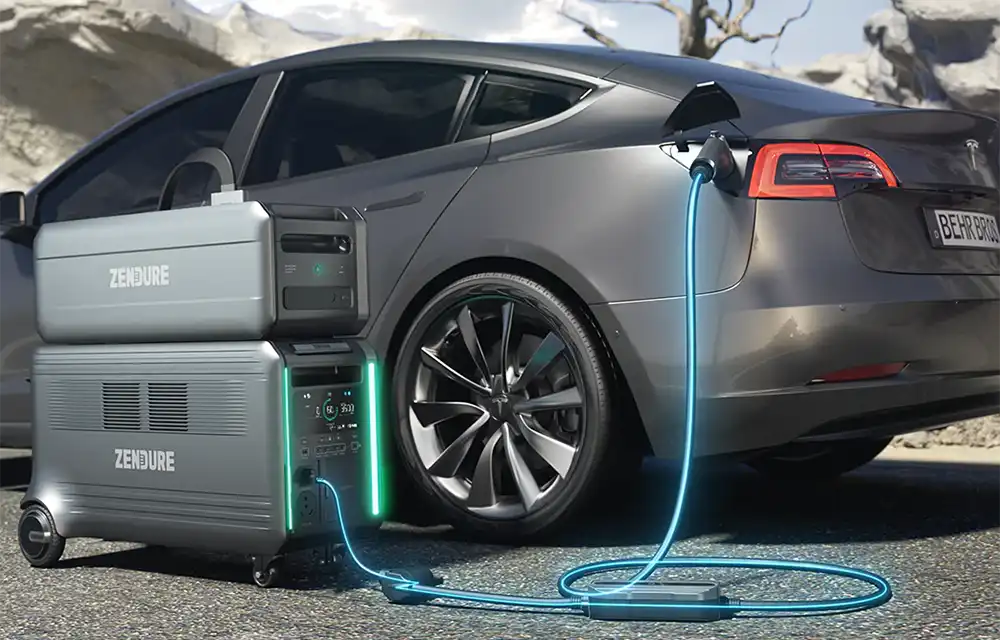 TT-30 RV Port Built-In with 30A 3,600W Capacity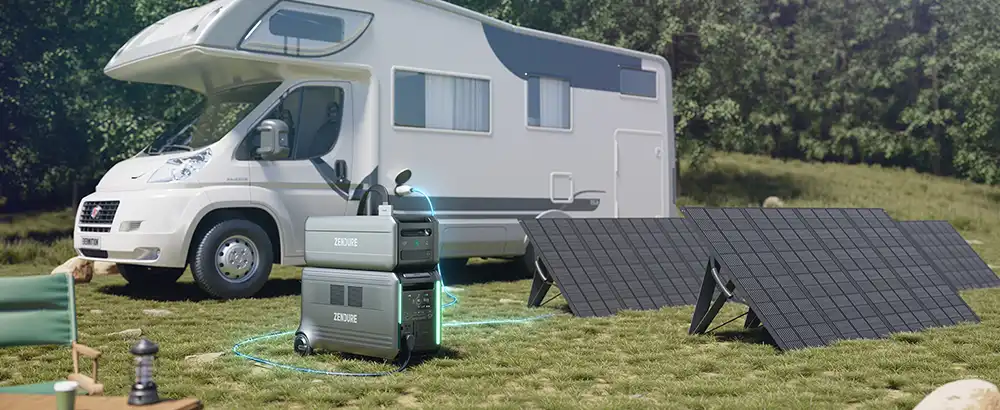 What's Included
SuperBase V6400, B6400 Satellite Battery, 400W Solar Panel, AC cable, Satellite Battery Cable, MC4 to XT90 cable, Car charging cable, Accessory pouch.
Zendure App Information and Downloads
B6400 Satellite Battery Manual
B6400 Satellite Battery Datasheet
Zendure V6400 Specs
Capacity
6,438Wh
Expansion
Capacity
Up to 4 additional
batteries
32,190Wh Max
Battery Type
Semi-Solid State
Dimensions
28.7"x13.6"x17.4"
73 x 32 x 44.7cm
Weight
130 lbs (59kg)
Charging Temp
-4°F - 104°F
-20°C to 45°C
Discharging
Temp
'-4°F - 104°F
-20°C to 45°C
Communication
WiFi/Bluetooth
App Interface
Zendure App
Inputs
AC
120V 1,800W
240V 3,600W
Solar Input
XT90, 12-150V 3,000W Max
Car Input
XT90, 12/24V,
10A
EV Input
ZenT2 Port
Outputs
120V
1800W
240V
3,800W
TT-30 RV Port
30A, 3,600W,
120V
USB-C X2
5-20V, 100W each
USB-C X2
5-12V, 20W each
USB-A X2
5V/2.4A
Car Outlet
10A
Anderson
12.6V/30A
DC5521
12.6V/3A

B6400 Satellite Battery Specs
Capacity
6,438Wh
Expansion
Capacity
Up to 4 batteries
+ V6400
32,190Wh Max
Battery Type
Semi-Solid State
Dimensions
27.2"x11.2"x10.8"
69x28.5x27.4cm
Weight
101 lbs (46kg)
XT90 Input
12-150V, 10A
600W Max
USB-A
Firmware Updates
App Interface
Zendure App
Outputs
Car Outlet
12.6V/10A
Anderson
12.6V/30A
378W Max
XT90 Output
12-60V/10A
600W Max
(App Enabled)

400W Solar Panel Specs
Rated Power
400W
Operating Voltage
40V
Operating Current
10A
Open Circuit Voltage
49.4V
Connection Type
MC4, 1M Cables
Kickstands
X4, Adjustable
Dimensions
(Unfolded)
88.2×39.4×1in
224×100×2.5cm
Dimensions
(Folded)
21.5x39.4x2.2in
54.7x100x5.7cm
Weight
30 lbs / 13.6 kg
Protection Level
IP65
Operating Temps
14° - 149°F
Conversion Rate
>22%
Zendure SuperBase V6400 Solar Generator w/Satellite Battery & 400W Solar Panel
Warranty Information
3 Year Warranty + 2 additional years if you register product through the Zendure App